The 2022 Subaru Love Promise Customer and Community Commitment Award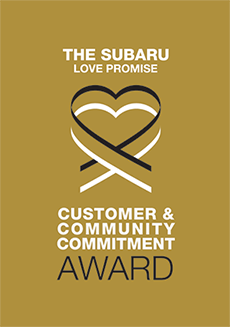 We've been nationally recognized for our dedication to our customers, our community, and the Subaru Love Promise.
We're honored to receive the 2022 Subaru Love Promise Customer and Community Commitment Award. This award nationally recognizes elite Subaru retailers who provide an exceptional customer experience at every interaction with Subaru. These retailers have also demonstrated an outstanding commitment to supporting passions and causes in their local communities in important areas such as the environment, community, health, education, and pets.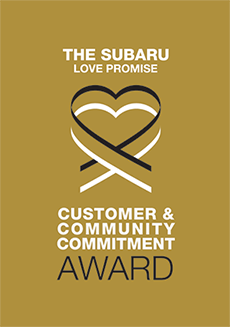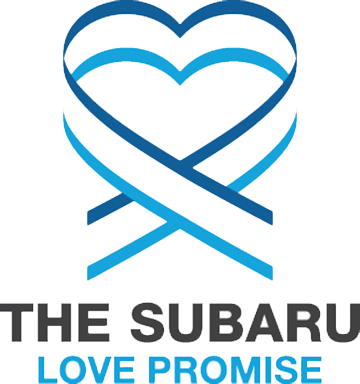 What is the Subaru Love Promise?
Subaru and our retailers believe in making the world a better place and the Subaru Love Promise is our vision of respecting all people. This is our commitment to show love and respect to our customers and to work to make a positive impact in the world.
How is Subaru of Kings Automall dedicated locally to the Love Promise?
At Subaru of Kings Automall, our Love Promise to the Cincinnati area can be seen in our proud support and sponsorship of many of our great local organizations. We're grateful not only to be a part of the Cincinnati community, but to serve it as well.
Great Parks of Hamilton County, Cincinnati Rec Commission
The Ohio Riverway Paddlefest
Love Promise Stories from Subaru of Kings Automall
Subaru and Subaru of Kings Automall believe in making a positive impact on the communities in which we live and work. We uphold that belief through our Love Promise Community Commitment. Every month, we select inspiring stories from customers and partners from around our area who strive to support our collective commitment and feature them here
Coraline and Her Furry Friends Find Furever Homes Thanks to Subaru! - Nyketa G
Subaru Loves Pets – Love Promise Story, from the SPCA Cincinnati Nyketa Gaffney, Public Relations & Communication Manager The SPCA Cincinnati has an invaluable community partnership with our animal-loving friends at Subaru of Kings Automall. We hosted our annual mobile adoption event in light of the Subaru Loves Pets initiative and "Make A Dog's Day" Saturday, October 22nd, from 12:00 p.m. until 3 p.m. Initially, the SPCA brought four pups and six kittens to 9536 Kings Auto Mall Rd., but quickly realized that the support from our community was immediate. Our team sent for more shelter companions to join us on location and by the end of the occasion, together, the SPCA Cincinnati and Kings Subaru found eight dogs & eight cats a loving home! Though, one of our adoptable pets stood out from the bunch, little miss Coraline. Coraline was found tied to the front door of our shelter on a very gloomy Wednesday morning, October 12th. The weather had begun to transition from warm to much cooler air, so it was alarming to see this abandoned girl at our doorstep. The only thing left with Coraline was a note which indicated someone decided to surrender Coraline to SPCA's custody. Our medical staff examined her right away. They discovered that she had fleas and missing fur, but beyond that Coraline was in good shape. She was treated for her minor ailments and made available for adoption. Unbeknownst to the SPCA, a young woman by the name of Kahry Mapes spotted Coraline on spcacincinnati.org. Something about this precious pup and her innocent smile caused Kahry to gravitate toward Coraline out of the many animals listed for adoption. Kahry decided she'd take a gamble and attend our mobile adoption event with Kings Subaru in hopes that Coraline would be there. Indeed, she was! When they met, Coraline sat right at ease with Kahry. Even when other potential adopters approached Coraline she went back to Kahry… as if to demonstrate to everyone SHE had found her person. It was a match. Coraline went home with Kahry that day and she left our hearts full. The success of the "Make A Dog's Day" mobile adoption event was made possible because of Subaru of Kings Automall and the devotion of SPCA Cincinnati's incredible volunteers. Kings Subaru was an awesome host, as in times past, providing space and refreshments to guests. Our volunteers were delightful and knowledgeable about each adoptable pet, encouraging families to make a compassionate decision toward a deserving animal. Our organization gives thanks to Subaru and their commitment to animal welfare. We look forward to future collaborations with our local retailer which supports our lifesaving mission here in Greater Cincinnati!

---
Pet Adoption at Subaru of Kings Automall - MELANIE S
Back in October 2022, Subaru of Kings Automall partnered with SPCA Cincinnati to host a pet adoption day at the dealership. For every shelter pet that was adopted, Subaru of Kings Automall donated $100 to SPCA Cincinnati. During the pet event, we were able to find 14 shelter pets their forever homes. We absolutely love this event every year and can't wait until next October to do it again. #SubaruLovesPets

---
$31,000 to Dragonfly Foundation - MELANIE S
We are proud to support The Dragonfly Foundation through the Subaru Share the Love event! This year we raised $31,000 which will directly impact the lives of the Dragonfly patients and families.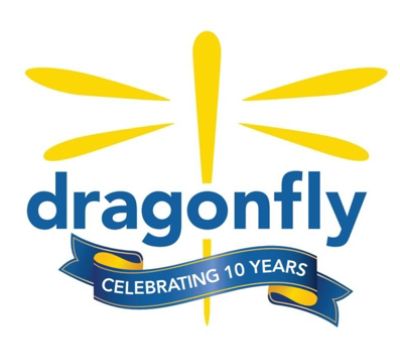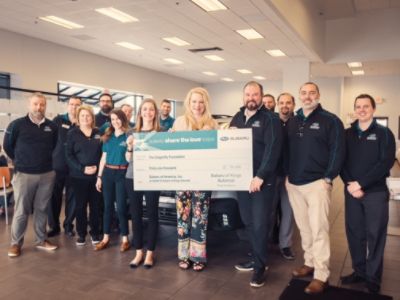 ---
We are proud to donate these soft blankets to Mercy Health - Fairfield Hospital - MELANIE S
Subaru and Subaru of Kings Automall have partnered with The Leukemia & Lymphoma Society (LLS) to bring love and hope to these brave patients in the form of warm blankets and hand-written notes of encouragement. We hope these blankets and messages will spread warmth, love, and hope where it's needed most and will let these strong people and their families know we care. We are proud to donate these soft blankets to Mercy Health - Fairfield Hospital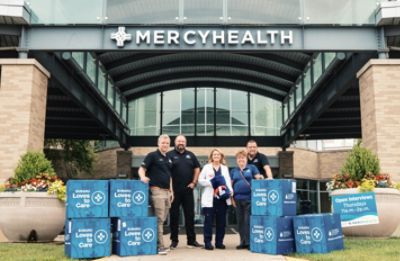 ---
Community Commitment | Bernie's Homeless Shelter - MELANIE S
Subaru believes in being More Than A Car Company and one way they demonstrate this is through their commitment to being a positive force in the communities where we live and work. More than 500,000 Americans experience homelessness each night and through our #LovePromise Subaru is proud to take action to help those in need and set an example for other to follow. This year Subaru of Kings Automall is partnering with Bernie's Homeless Shelter to provide socks and blankets to those in need.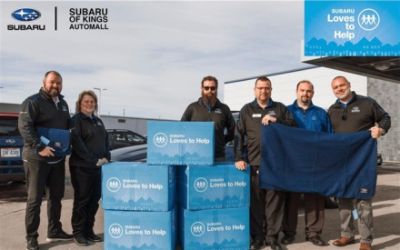 ---
Subaru of Kings Automall Loves Learning - Subaru of Kings Automall S
Whether learning from home or in the classroom, many students in some communities lack the supplies, learning materials, and resources they need to succeed in school. Subaru of Kings Automall in Cincinnati, OH wants to help. Through Subaru Loves Learning, which focuses on supporting and improving education, Subaru of Kings Automall is committed to providing students and schools with some of the resources necessary to learn and grow in the classroom. Subaru and its retailers are partnering with AdoptAClassroom.org to give teachers at Stewart Elementary the funding and resources necessary to support students. Already Subaru of Kings Automall has raised $3,000 which is enough to adopt 6 classrooms at Stewart Elementary. This year alone, Subaru will benefit more than 114,000 students nationwide and Subaru of Kings Automall is proud to do our part to help classrooms in our area. Subaru and its retailers have a long history of supporting education. Through our Subaru Loves Learning initiative, we have donated over 277,000 science books to schools in the past four years alone. Subaru believes in making learning accessible to as many students as possible. Adopting classrooms through Subaru Loves Learning is just one of the ways we are doing more to make a difference. Subaru. More than a retailer.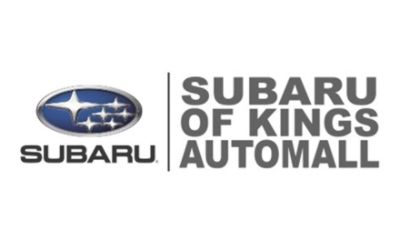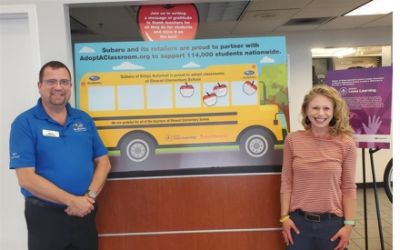 ---
Subaru of Kings Automall helps feed our city. - Contact U
Through the Subaru Love Promise, a commitment to support our communities, Subaru and its retailers across the country are making a donation to provide 50 Million Meals to @FeedingAmerica. This Pandemic has left many people out of work and unable to feed themselves or their families. Subaru of Kings Automall has donated 94,536 meals to the Freestore Food Bank. Int the Greater Cincinnati Area, Subaru has donated 334,377 meals.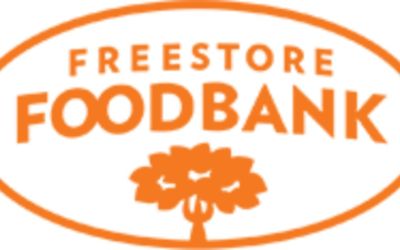 ---
An incredible day at Subaru of Kings Automall - Contact U
What an incredible day it was at Subaru of Kings Auto Mall with the SPCA Cincinnati for our Subaru Loves Pets Event. The event was hosted October 24th, 2020 at the dealership and was a great success. All 5 of the SPCA dogs that attended this mobile adoption found forever homes! Also, the sweetest kitten, Winifred found her human too. This wonderful adoption event was made possible by a generous grant through ASPCA & Subaru of America, Inc.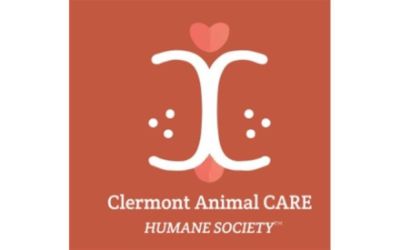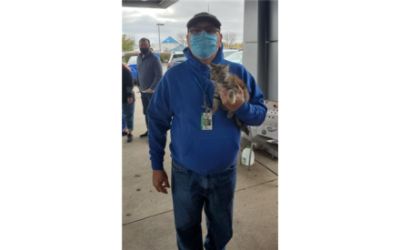 ---
The Dragonfly Foundation chosen again this year. - Info A
Once again Subaru of Kings Automall designated The Dragonfly Foundation as its Hometown Charity for the Subaru Share The Love Event. Customers who bought or leased a car at Subaru of Kings Automall this year were able to choose between one of five charities in which Subaru would make a $250 donation to. Just like years past Subaru of Kings Automall has been making an additional $50 donation to The Dragonfly Foundation for every Subaru vehicle sold or leased through January 4, 2021. Last year they raised over $39,000 and are hoping to beat that number even with the difficult year that everyone has been through. We'll update this story as soon as the final total is in!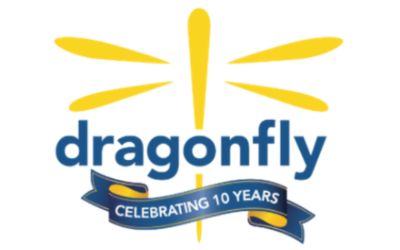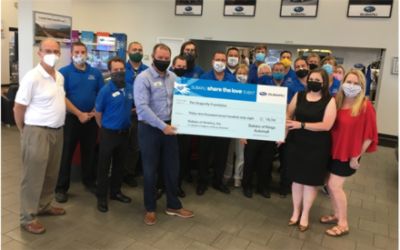 ---