The 2022 Subaru Love Promise Customer and Community Commitment Award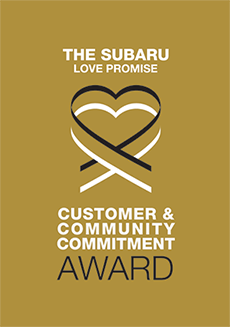 We've been nationally recognized for our dedication to our customers, our community, and the Subaru Love Promise.
We're honored to receive the 2022 Subaru Love Promise Customer and Community Commitment Award. This award nationally recognizes elite Subaru retailers who provide an exceptional customer experience at every interaction with Subaru. These retailers have also demonstrated an outstanding commitment to supporting passions and causes in their local communities in important areas such as the environment, community, health, education, and pets.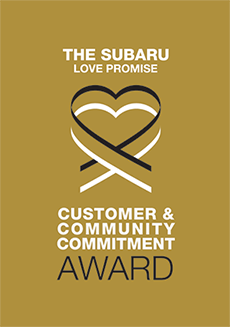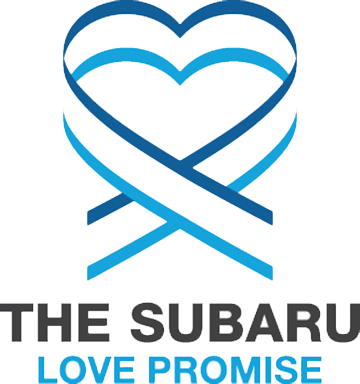 What is the Subaru Love Promise?
Subaru and our retailers believe in making the world a better place and the Subaru Love Promise is our vision of respecting all people. This is our commitment to show love and respect to our customers and to work to make a positive impact in the world.
How is Subaru of Kings Automall dedicated locally to the Love Promise?
At Subaru of Kings Automall, our Love Promise to the Cincinnati area can be seen in our proud support and sponsorship of many of our great local organizations. We're grateful not only to be a part of the Cincinnati community, but to serve it as well.
Great Parks of Hamilton County, Cincinnati Rec Commission
The Ohio Riverway Paddlefest
Love Promise Stories from Subaru of Kings Automall
Subaru and Subaru of Kings Automall believe in making a positive impact on the communities in which we live and work. We uphold that belief through our Love Promise Community Commitment. Every month, we select inspiring stories from customers and partners from around our area who strive to support our collective commitment and feature them here
Community Commitment | Bernie's Homeless Shelter - MELANIE S
Subaru believes in being More Than A Car Company and one way they demonstrate this is through their commitment to being a positive force in the communities where we live and work. More than 500,000 Americans experience homelessness each night and through our #LovePromise Subaru is proud to take action to help those in need and set an example for other to follow. This year Subaru of Kings Automall is partnering with Bernie's Homeless Shelter to provide socks and blankets to those in need.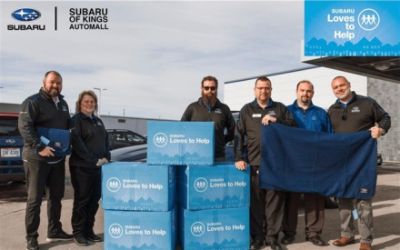 ---
Subaru of Kings Automall Loves Learning - Subaru of Kings Automall S
Whether learning from home or in the classroom, many students in some communities lack the supplies, learning materials, and resources they need to succeed in school. Subaru of Kings Automall in Cincinnati, OH wants to help. Through Subaru Loves Learning, which focuses on supporting and improving education, Subaru of Kings Automall is committed to providing students and schools with some of the resources necessary to learn and grow in the classroom. Subaru and its retailers are partnering with AdoptAClassroom.org to give teachers at Stewart Elementary the funding and resources necessary to support students. Already Subaru of Kings Automall has raised $3,000 which is enough to adopt 6 classrooms at Stewart Elementary. This year alone, Subaru will benefit more than 114,000 students nationwide and Subaru of Kings Automall is proud to do our part to help classrooms in our area. Subaru and its retailers have a long history of supporting education. Through our Subaru Loves Learning initiative, we have donated over 277,000 science books to schools in the past four years alone. Subaru believes in making learning accessible to as many students as possible. Adopting classrooms through Subaru Loves Learning is just one of the ways we are doing more to make a difference. Subaru. More than a retailer.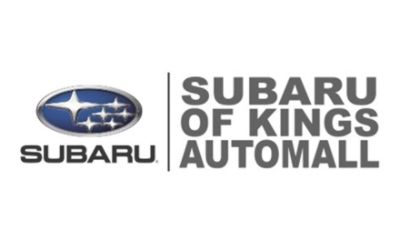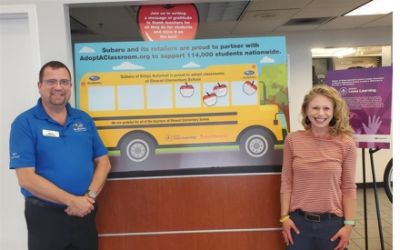 ---
Subaru of Kings Automall helps feed our city. - Contact U
Through the Subaru Love Promise, a commitment to support our communities, Subaru and its retailers across the country are making a donation to provide 50 Million Meals to @FeedingAmerica. This Pandemic has left many people out of work and unable to feed themselves or their families. Subaru of Kings Automall has donated 94,536 meals to the Freestore Food Bank. Int the Greater Cincinnati Area, Subaru has donated 334,377 meals.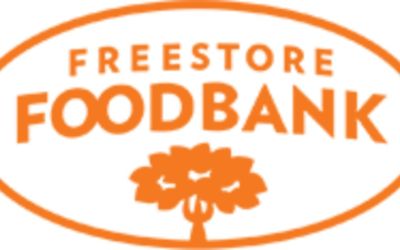 ---
An incredible day at Subaru of Kings Automall - Contact U
What an incredible day it was at Subaru of Kings Auto Mall with the SPCA Cincinnati for our Subaru Loves Pets Event. The event was hosted October 24th, 2020 at the dealership and was a great success. All 5 of the SPCA dogs that attended this mobile adoption found forever homes! Also, the sweetest kitten, Winifred found her human too. This wonderful adoption event was made possible by a generous grant through ASPCA & Subaru of America, Inc.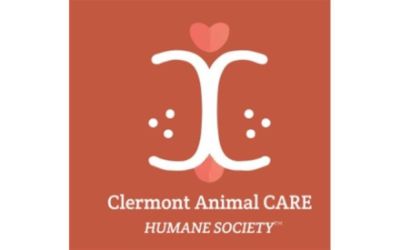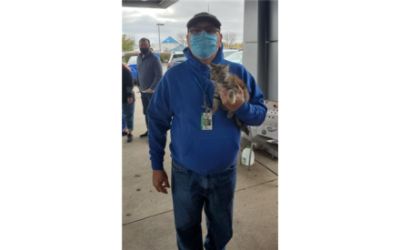 ---
The Dragonfly Foundation chosen again this year. - Info A
Once again Subaru of Kings Automall designated The Dragonfly Foundation as its Hometown Charity for the Subaru Share The Love Event. Customers who bought or leased a car at Subaru of Kings Automall this year were able to choose between one of five charities in which Subaru would make a $250 donation to. Just like years past Subaru of Kings Automall has been making an additional $50 donation to The Dragonfly Foundation for every Subaru vehicle sold or leased through January 4, 2021. Last year they raised over $39,000 and are hoping to beat that number even with the difficult year that everyone has been through. We'll update this story as soon as the final total is in!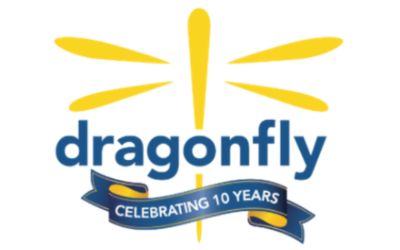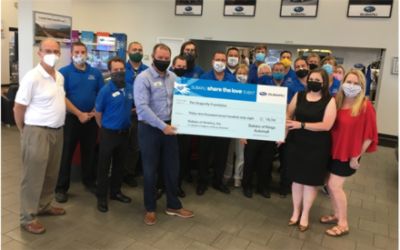 ---
Subaru Loves Pets-Spca Cincinnati - Michael R
Thank you to Subaru of Kings Automall for your continued support of the Subaru Loves Pets Program benefiting Spca Cincinnati. Because of your generous support, the Spca can continue its mission of promoting animal welfare, strengthening the human-animal bond, providing humane education and eliminating pet overpopulation. This year's Subaru Loves Pets event was held on October 24th at Subaru of Kings Automall, the 31/2 hour event which included pet adoptions and fill the Subaru with donated supplies for the Spca was a great success. We arrived 30 minutes before the event to set up to find 20 people already waiting to see our adoptable pets. We wasted no time in setting up so everyone could see and interact with our adorable pets. The Subaru team which included General Manager Darryl Russell were most helpful throughout the event making our staff, volunteers and customers feel welcome. Thanks to Darryl and his team support we adopted 12 pets into new forever homes. The Spca appreciates the partnership with Subaru and look forward to next year's event.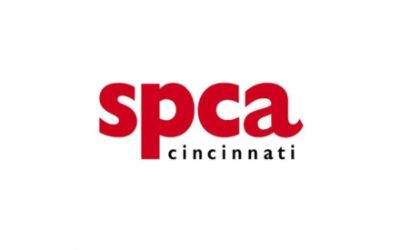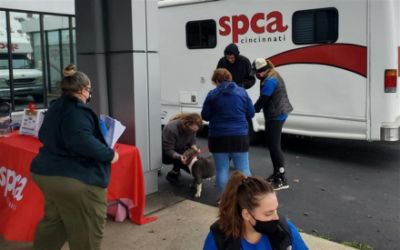 ---
Subaru of Kings Automall Loves to CARE! - Christina B
The Tri-State Chapter of The Leukemia & Lymphoma Society is proud of its Loves to Care partnership with Subaru of Kings Automall. On August 12, Darryl Russell, General Manager of Subaru of Kings Automall and Star Delivery Specialist Courtney Bomkamp, joined LLS representative Christina Bold to deliver 80 warm blankets and 50 craft kits to cancer patients at The University of Cincinnati Medical Center. The University of Cincinnati's Bone Marrow Transplant Program Director Dr. Zartash Gul was on hand to accept the donation on behalf of current patients. Thank you, Darryl, Courtney and the rest of the Subaru team, for your support of LLS and UC cancer patients. We are truly grateful for your kindness towards our cancer warriors!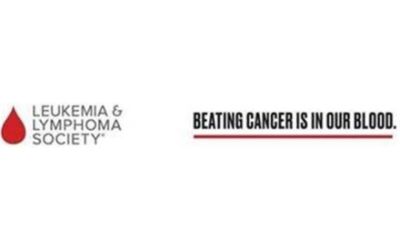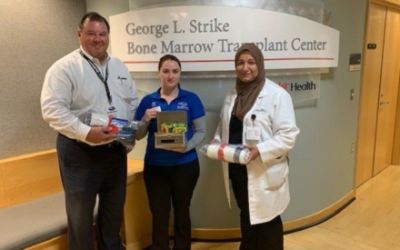 ---
Subaru Love Story - Most Valuable Kids - Sherri F
Thank you Kings Subaru for your continued support of Most Valuable Kids (MVK) during the Share the Love Event. Because of your generous support, MVK has been able to expand our services to meet the growing needs in our community associated with childhood poverty. This includes the creation of extra-curricular experiences that, for the majority of kid-focused, non-profit agencies in our community, saves them critical dollars to focus on other areas of need (70 % state MVK saves them money/impacts their bottom line) In 2018, your donation provided 22,747 at-risk kids in our community with the opportunity to enjoy an experience they would otherwise be unable to afford. These experiences reward hard work, strengthen relationships, enhance self-esteem and encourage kids to dream big! From the magic of a live performance at a theater to great seats at a sports event, MVK and Subaru understand the importance of creating childhood memories. Additionally, MVK creates programs that introduce kids to jobs, healthy eating, exercise, race/police relations and female empowerment with our very own Girls with Pearl's program at eight schools. Our impact is best said in the words of a teenage recipient, "Thank for making my birthday the most valuable memory that I will ever have. Words cannot express how much it meant to me. I will cherish that moment for the rest of my life. By receiving tickets to the theater, I saw kindness that sticks with people forever. I also grew closer to my aunt and developed a deeper love for the arts. I have never felt more appreciated in my life." Thank you Kings Subaru, we couldn't do what we do without you!
---
Subaru Love SPCA - Courtney B
In the spirit of the Subaru Loves Pets initiative, Kings Subaru organized an on-site adoption festival with the SPCA of Sharonville. On August 18th, 2018 representatives from Kings Subaru and the shelter gathered on the grounds in an effort to bring awareness to the increasing number of animals that spend weeks, if not months at a time, in shelters throughout the country. This event included music, food, custom tag engravings, and resulted in the adoption of 12 dogs and 6 cats. The event was in full swing with members of the community congregating with the intention of helping the shelter animals find their forever homes. Kings Subaru took additional measures to secure funding, with the assistance of SAF, to sponsor the SPCA foster program for a one-year time span. This special sponsorship of $5,867.77 will allow the SPCA to provide food, toys, and medical care to many of the animals from the shelter that are placed in the care of foster parents. The staff of Kings Subaru was grateful for the opportunity to meet the hard-working members of the Sharonville SPCA and to learn of their mission to place each animal in a loving home where they will receive all the love and care needed to prosper.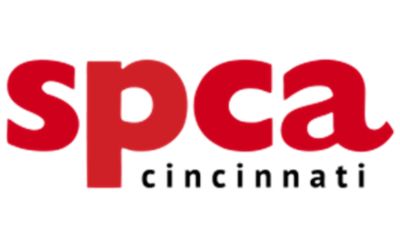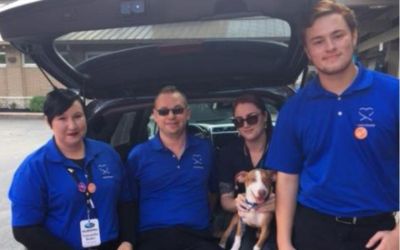 ---